OUR MISSION
At Disability Mama & Co., "we celebrate, honor, empower, encourage and educate moms and other caregivers of children who have special needs; for who they are and what they do… Inspiring them to go further than they ever imagined possible."  
                                                                                – Nadine Vogel, Chief Mama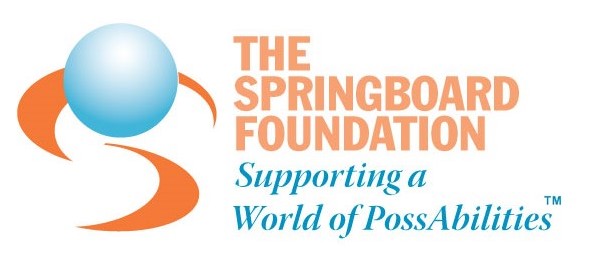 HELP THE SPRINGBOARD FOUNDATION REACH THEIR GOAL!
During this month-long campaign, please help
The Springboard Foundation
reach its goal of at least 
$5,000 and 40-donors!  
If the goal is reached today, 
#GIVINGTUESDAY
,
The Springboard Foundation
will receive a 20% funds-match 
from Global Giving.
If the month-long goal is reached, 
three (3) scholarships will be awarded to 
qualified
 college-students with disabilities.*

BEGINS: Tuesday, November 29 at 12:01 am
ENDS: Saturday, December 31 at 11:59 pm 
 *Terms apply.  Qualified college-students with disabilities must have a GPA of 3.0 and 24-college credit hours. Please visit thespringboardfoundation.org for more details.  
WELCOME
Welcome to DisAbility Mama & Co. I am a proud DisAbility Mama of two daughters, Gretchen and Rachel. Unknowingly, from the time they were born, my girls changed my life in ways I could never have imagined. They've given me strength I didn't know I had. They taught me about being brave even when I was scared, about being a fighter when I thought I could not take one more step and about being resourceful when I believed there were no options. They also taught me about empathy, unconditional love and most of all, what it means to be their very proud DisAbility Mama.
Thanks to being a DisAbility Mama, I found my true calling in life; to help and guide others who either represent and/or serve this very large, loyal segment of our population. This calling has led me to help families all over the United States plan for the legal and financial needs of their children's futures, create brands and divisions within corporate America that support and serve the disability community, start a company to successfully mainstream individuals with disabilities in the corporate workforce, workplace and marketplace around the world and author a top-selling business book. It has also led me to establish two non-profit organizations, one to provide advocacy services to special needs parents and the other, to provide scholarships to college students with disabilities. I've served on non-profit Boards to further the missions of organizations in support of cerebral palsy, autism and early intervention to name a few. Most recently, I've written two books for moms who have children with special needs and I have founded DisAbility Mama & Co.
I invite you to explore the site and join my fight as I support yours.  Together we can create a community and more importantly, a movement that will be like no other in our mission to honor, celebrate, empower and educate DisAbility Mamas all around the world.
It is my hope that you will be part of the DisAbility Mama Movement; "Meeting Life's Challenges, "One Round at a Time."
I look forward to hearing from you.